Yesteryear
About 20 years ago, I had the joy of visiting the Wind River Range in Wyoming with my friend, Shelly Stokes (I know, Shelly, I need to write more often...). She is now Shelly Vanhouwelingen, married to a great guy who happens to be an awesome Sheriff in Fresno County. Shelly played softball at Fresno State, then went on to be a gold medalist on the 1996 U.S.A. Olympic Softball Team. Anyway, we decided to head to Wyoming to tackle the Winds and climb Fremont Peak. It was a blast, and really one of the adventures that opened my heart to really wanting to get serious about photography. Below is a photo taken of Shelly on a grassy ledge when we descended Fremont Peak's west side straight down to Titcomb Basin. NOT recommended, as we had to navigate a pretty precipitous series of ledges and drop-offs! We kept praying the ledges would continue down, as we were certainly not going to make it back up the way we had come!
Shelly on descent of Fremont Peak
Fast-forward 20 years, and one photo of Titcomb Basin began haunting me, waking me up to the fact that I really, really wanted to go back with a dSLR in hand. Here's the photo (my gratitude to OldManTravels for taking it and posting it online!).
The time had finally come.
Getting There
Some wouldn't know this, but I actually like driving... when in open spaces. Once I got past Fort Collins, Colorado, and headed into Wyoming, I was loving it. The short road from Pinedale, Wyoming, to the trailhead followed along the shore of Fremont Lake. I remembered it from all those years ago, and thought I'd like to take a stab at a sunset shot at the lake. God did not disappoint...
Day 1 - Elkhart Park to Island Lake
So I hadn't decided if I should hike in a few miles and set my sights on the high country the following day, or head all the way to Island Lake (almost 12 miles) the first day. I decided to shoot for Island and see if I could make it.
The first few miles were extremely uneventful. I hiked through a forest. A forest much like most forests I've hiked through. So monotonous, I figure instead of showing you photos of said forest, I'd ask my young daughters to draw pictures of a forest, which might be a bit more entertaining. The photo is at Photographer's Point with the pictures they drew for me and told me "not to open until hiking." I LOVE MY GIRLS!
Forest Hike by Ryan (that's a backpack, not my belly!)
Forest by Logan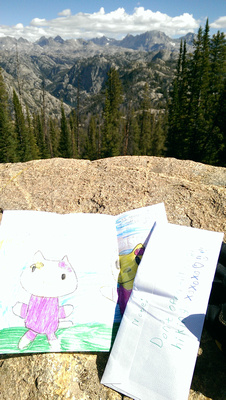 Drawings for the trail (from my girls)
Feeling Young
So I guess I was hiking fast; the 4.5 miles to Photographer's Point went by much quicker than I thought. I had some pep to my step, feelin' like I was young again.
Things were starting to look good the closer I got to Island Lake. Some pretty nice scenery along the way...
Feeling A Bit Older
Once I got passed Seneca Lake, I was starting to feel it a bit. There were a lot of ups and downs on the trail, which I had expected, and nothing as hard as the constant "up" you have to hike in Colorado to get to the high up places. However, I did have to laugh at myself when I said, "Oh, here's the last rise, then I'll be at the lake!" only to realize there was one more down-and-up to go. :)
Looking back toward Lester Pass
Getting warmer...
warmer...
warmer...
Feeling Old
Once I was at Island Lake, I pitched camp quickly as the hail was about to let loose. I caught a few sprinkles, but was snug in the tent when it opened up. And I was tired. Maybe I had bitten off more than I could chew...?
Island Lake... finally!
Campsite at Island Lake
Island Lake Sunset
The sky was clouded over pretty densely up until sunset's golden hour, and I was hoping (praying) that the sky would open up at some point. I was almost resigned to full clouds when a small window opened up, and God said "yes" and painted a beautiful scene...
Island Lake Sunrise
There were no clouds just before sunrise, so again I prayed for some clouds to form as well as the wind to stay calm. I know, lofty hopes. But God once again said, "yes" and revealed yet another beautiful scene...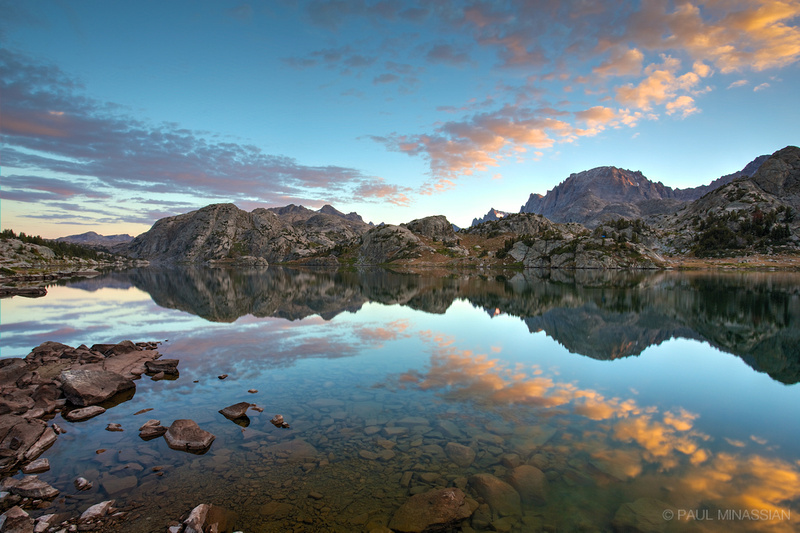 Island Lake Sunrise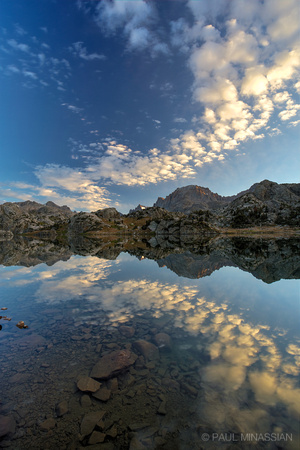 Morning Sky at Island Lake
Day 2 - Island Lake to Titcomb Basin
It's funny what can get lost over 20 years. We came down this trail all those years ago, but I don't remember a foot of it. So it was a very nice "rediscovery" as I enjoyed a pleasant hike up to the basin.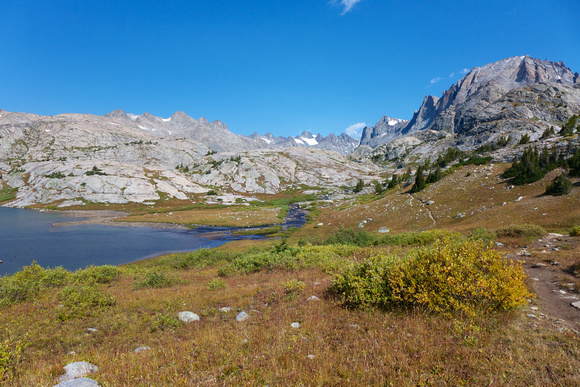 Between Island Lake and Titcomb Basin
Approaching the basin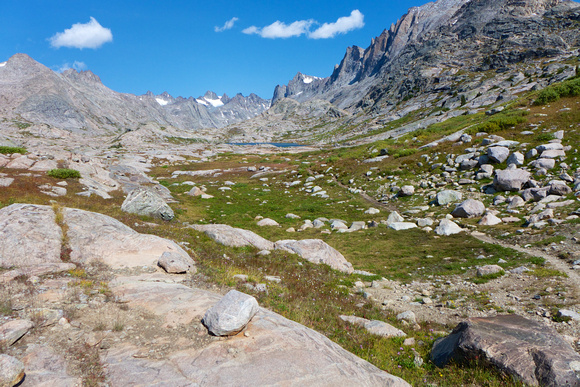 First look at Titcomb Basin!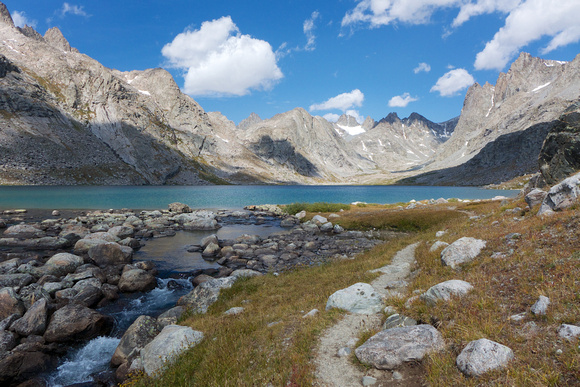 Approaching Upper Titcomb Lake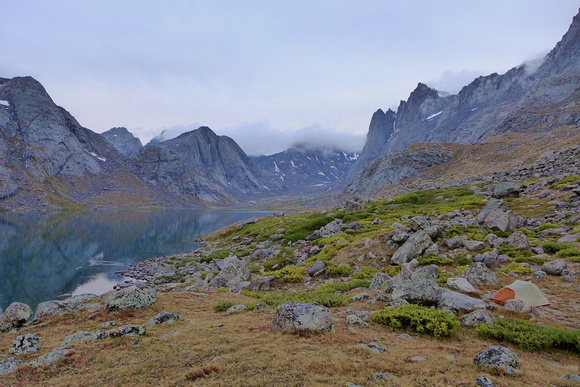 Campsite at Upper Titcomb Lake (tent bottom right corner)
Looking south back down the basin
Titcomb Basin
Here it is: the goal of my journey. The place I've wanted to see again for 20 years.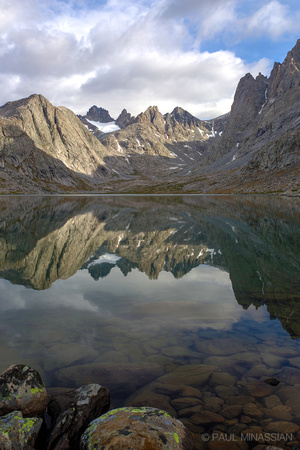 Upper Titcomb Reflection
Upper Titcomb Lake
Upper Titcomb Morning
Titcomb Basin Blues
Day 3 - Limitations
My plan was to spend another day in the basin, then go back toward Seneca Lake, head over Lester Pass and down to Upper Cook Lake, spend the night there, head out to the trailhead, shower in Pinedale's Aquatic Center, drive to the Big Sandy Trailhead, hike to Deep Lake, then over to Temple Lake, then out and drive home.
However...
1. My shoes (and subsequently feet) finally failed me. I'd been using Inov-8 Roclite 315's, which had worked fine on shorter hauls in Colorado, but the miles and miles on granite trails in the Wind Rivers was too much for my toes. Even as I type this, I look down at still-swollen big toes (both feet) with black toenails that will no doubt fall off sooner than later. Perhaps I didn't have my shoes tied just right, but my toes took the brunt of the miles. As well as the arch on my right foot, which was hurting rather consistently as I hiked my last 20 miles over days 3 and 4. For years I hiked in Hi-Tec Altitude I's (the original); I think I'll go back to Hi-Tec Alititude V's (they have a low-top I might try), give those a go.
2. My appetite continues to cause problems. For whatever reason, the last couple times I've backpacked, I've found it difficult to eat whatever food I have with me. Due to camera gear, I've left the stove at home, but I think I may have to go back to bringing a stove and bringing things like Top Ramen, instant oatmeal and such. My stomach actually rejects food and doesn't let me swallow. It's very strange, but I'm sure it has something to do with pushing my ever-aging body much too hard on my first day, which then effects all the rest. I'm not getting nearly enough calories into my gut, and it really drains me.
So between the two issues, I decided to head out the way I came in, bypassing Lester Pass and camping up on a ridge above Lake Hobbs. Once I got out I then chose to head north to Grand Teton National Park and spend a few days taking a few photos and enjoying God's amazing creation.
Grand Teton National Park was wonderfully, beautifully, peacefully uneventful. Except for my pre-dawn hike to Taggart Lake on the same day they closed down the Moose-Wilson Road due to heightened grizzly bear activity. I sang variations of "This Little Light of Mine" (stuck in my head because I sing it to my daughter Logan a lot when tucking her in to bed) quite loudly and boldly as I hiked through the dark by headlamp. It must have worked because I'm still alive. :)
The Little Things (Are Sometimes the Biggest)
This is cool (albeit random)... a sun hail shower (video), and coming home to two amazing little girls!
Sun hail shower
My "Welcome Home" moment—I love my girls!
Ahead of Time
The thought is as simple as it is profound: I will not be able to visit places like this forever. Praise God I have my health, but He never promised me good health all my life (nor do I expect Him to). If I'm completely honest with myself, I know the day will come—sooner than later—when I won't be able to do this anymore. At least not with 10 pounds of camera gear. And who knows what else might be in store around the bend.
I used to look back and think, "If only God had let me know ahead of time, I would have been prepared for this or that." Ahead of time. Such an interesting phrase. When I really think about it, the only one who should be "ahead" of time is God. Not me.
When I hike down a new trail for the first time, I never know what's around each bend, or over each rise. That's a good thing. A great thing. There's a sweet mystery to it, never knowing what amazing landscape I'll encounter. I don't round each bend thinking, "Wow, it's probably going to be ugly around this bend with lots of mosquitoes and it'll probably hail on me and be freezing and the trail will probably be a pain and steep." I wouldn't get a mile down a trail if that's how I looked at it. So why not have the same attitude about my life? Do I not believe Jesus Christ leads me down each trail? And if He does, why not look at the right side of the picture? There is always something amazing and beautiful and unique to be found out on the trail. Always.
I've had some tough moments—even some scary, dangerous moments—on the trails I've hiked. One of these days, I might end up in a bad situation, one that may debilitate me. But even if I ended up hurt from a fall on a hike, and life got incredibly difficult, it wouldn't make me despise the "location." Meaning, the mountains (deserts, etc.) would not lose one ounce of their spectacular beauty, even if I could never hike in them again. Likewise, I've had some tough, scary moments in life. Even a bit debilitating. I have a few scars that will always be with me, and I don't know what awaits around the bend. But I think this trip made me realize, even if I collect brutal scars over the years, it won't make me despise what Jesus has done. And what has He done? He's offered a "location" in which I have the freedom and permission to approach Him, to have a relationship with Him in spite of my failings (read: sins). That location? His presence! The more I "hike" in this life, the more I realize that Jesus Christ is the spectacular beauty around each bend. And that will never change, no matter how many times I stumble along the trail.
"We can make our plans, but the Lord directs our steps." - Proverbs 16:9