Camera Chronology
---
At first it was those odd-shaped, plastic Kodak cameras that had 24 shots (sometimes 25 or 26 if you were lucky). Back then every shot cost money. Not that it mattered...
I was really bad.
The outcome wasn't too pretty, so I gave up for a while. Then when I was in my 20's, I bought a Canon Rebel (film version, before digital). Then onto a Canon 20D for several years, then a Canon 60D for a while (LOVED the articulated screen), then recently a brief stint with a Canon 5Dm2, and finally my current camera, a Canon 6D. Love the 6D. Great balance of low weight (for backpacking) yet full-frame goodness. Great in low light. Plus, I love using the "Action" setting for shots of my family. It's like point-and-shoot ease meets dSLR speed.
Camera Equipment
---
Current Camera Equipment List
(for day hikes and not-far-from-the-car):

For backpacking I slim things down to:
Backpacking Gear
---
The more I visit amazing places, the more I wanted to be able to capture the mood, the feeling, the incredible beauty and share it with friends, family and whoever wants to enjoy it. Which means trying to get to some hard-to-get-to places. As I get older, the gear seems to get heavier, but I've worked hard to shave weight off my gear. I guess if I removed my 10 pounds of camera gear and such, I'd be a lot closer to being an ultralight hiker. Maybe someday I'll invest in changing over to a mirror-less camera system and shave some significant weight...
Backpacking Gear
Backpack - Granite Gear Blaze AC 60
Awesome pack. I use it for multiple day excursions, and it's light enough to double as my peak bag. I used an Osprey Aether 70 (comfy) for a few years, but the Granite Gear saves me 2 pounds and is actually more comfortable. Definitely bare bones, so if you like bells and whistles this ain't the pack for you. It can handle up to 40 lbs, but anything more than that is pushing it.
Tent - Big Agnes Copper Spur UL1
I don't like to use the term "bombproof" for gear, but for this I will make an exception. I've been in crazy hail/sleet/rain/wind/thunderstorms multiple times in the San Juans in Colorado, and this thing didn't budge. Roomy. Solid. No claustrophobia whatsoever, even after hours and hours in massive storms. I fit all of my camera equipment as well as my pack (use it under my Exped pillow) and have plenty of room to spare. If I spent most of my time in the Sierra Nevada, I might opt for a TarpTent (awesome tents!).
I did have my first morning of massive condensation. I was at around 9,600 feet in the Wind River Range on a chilly day, 2nd week of September. Only time it's ever happened, but it was definitely a rain shower in my tent. I'm hoping it was an anomaly, but I definitely will vent it more next time I'm in similar conditions.
Sleeping Bag Quilt - EnLIGHTened Equipment RevelationX
Yep, went quilt. Never looked back. Have not been cold at all since going quilt. As one who tosses and turns all night (and a side sleeper), mummy bags always had me tied in knots. These EnLIGHTened Equipment quilts are awesome. Hand made, light, great company. Highly recommended. I had mine custom made, got the 20° 6' wide with 30% overstuffing. Perfect!
Sleeping Pad - Exped Synmat UL 7
This, coupled with the quilt, makes for an amazing night's sleep. Until this combination (including pillow, see below), I slept miserably and had frequent headaches. No more.
Pillow - Exped Air Pillow
Yes, I am mentioning my pillow. Years of headaches using stuff sacks filled with clothing was so frustrating. Sleepless nights are gone. Wish I had bought something like this years ago.
Food Storage - BareBoxer Contender
In Colorado, one could argue a canister isn't needed. And even though the weight penalty makes this a bit harder for my pack, the ease-of-use of a canister tips the scales (ever so slightly). After years of tying things up, hanging things, etc., the peace of mind of setting a canister a few yards from my tent is awesome. I don't have to care if there are trees, big rocks, don't need ropes... worth it for me.
Other Essential (and not-so-essential) Gear
Backpacking Clothing
---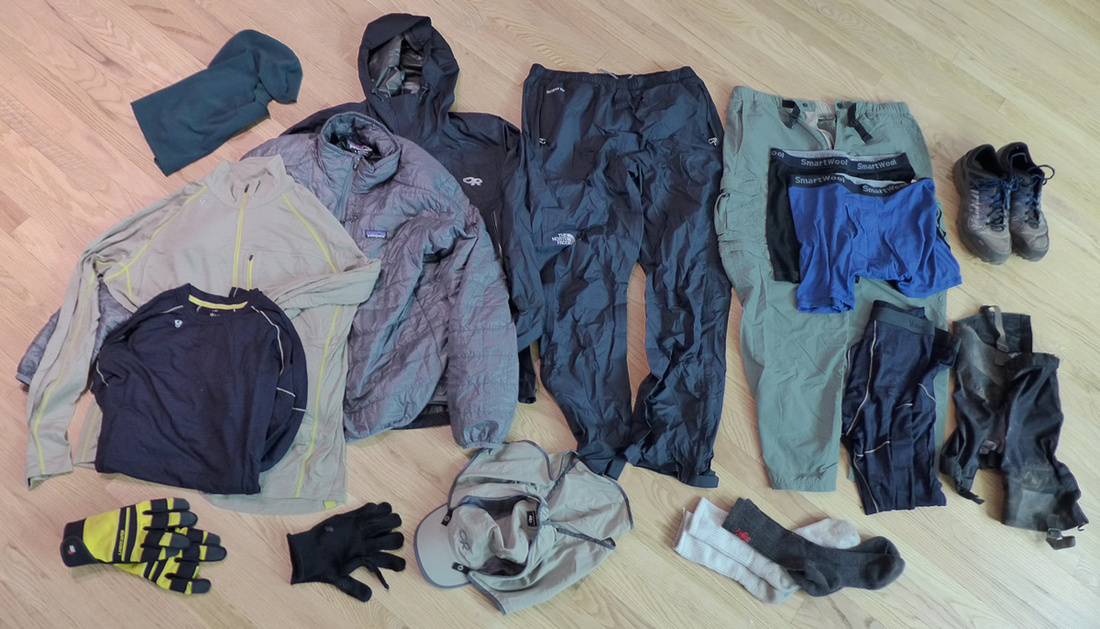 Clothing-011
Merino Wool: I recently went all merino wool, and it's been well worth it! I will never go back to polyester synthetics. Merino wool simply doesn't stink, for days at a time! I use Smartwool socks and underwear, but my shirts are Stoic brand (exclusively at Backcountry.com). My primary hiking shirt is a long sleeve Stoic Merino 150 Bliss shirt. Yes, I hike in long sleeves and pants. I don't wear anything cotton.
Rain Gear/Outerwear: Outdoor Research Foray Jacket. One of my most recent trips to Colorado's San Juan Mountains had me hiking through ten hours of rain in 2 days (no exaggeration). This jacket was amazing, kept me dry. For rain pants I use The North Face Venture waterproof pants.
Gloves: I hike with gloves on. Keeps my hands a lot cleaner, and great for scrambling through boulder fields, etc. When it's not raining/snowing, I wear Midwest Landscaper gloves. When it rains/snows, the landscaper gloves get soaked, so I use pair of Manzella Power Stretch Gloves (with Polartec Power Stretch). They stay a lot warmer when wet.
Pants: PrAna Stretch Zion Pants. These are awesome! Hiked for a week in the Wind River Range in September, loved them. Retired my REI Sahara Convertible Pants, but I have to give them massive props. They've been 100% solid. But I've found I never convert them to shorts, so I went with the PrAna pants.
Shirt: I hike in a Stoic Merino 150 Bliss long sleeve shirt. Love it, love it, love it. I sweat like crazy, and it never stinks. I also have a Stoic Merino 200 Bliss shirt in case it's a bit colder.
Headwear: I use the Outdoor Research Sun Runner Cap when I hike and a Smartwool Balaclava when I sleep and for cold mornings/nights.
Insulation layer: I have a Patagonia Nano Puff pullover that has replaced all fleece. I miss fleece a pinch, but this is a better all-around item, especially because it can compact down so small.
Update 2/5/16: Bought an REI Revelcloud Jacket because it has 2 zippered hand pockets and is a jacket (instead of anorak/pullover). Will try it this year and see how it goes, minimal weight penalty vs the Nano Puff.
Underwear: Stoic merino 200 long underwear, Smartwool boxer briefs.
Footwear: I use Merrell Moab Ventilators for rocky terrain and longer trips (for example, a week-long trek in the granite-laced Wind River Range in Wyoming). For shorter hauls, maybe a bit lighter load I use Inov-8 Roclite 315 trail running shoes. Great for walking through creeks, they dry extremely fast!
Gaiters - I always wear 'em. Keeps the dirt and rocks out of my shoes. Well worth it. Currently using Rab Latok Mid Gaiters for a lower profile and eVent. I also have some REI Mountain Light Gaiters (eVent) for a little higher profile.