Prints and Canvas Wraps
---
PRINT QUALITY
All prints, canvas wraps, and customized orders are entrusted to top-of-the-line photo labs. Currently, I use Nations Photo Lab, Bay Photo Lab, Pro DPI, or Mpix depending on what is ordered. I've also used Costo for multi-canvas wall artwork, and it's turned out extremely well (and their return policy is outstanding). I only order what I would put on my own walls (and trust me, my wonderful wife would not allow me to settle). I'll work with you to make sure you are getting what you need and that it's worth it for you. I make sure to keep you informed throughout the process.
HOW TO ORDER
As you browse the galleries, take note of the name of the photo(s) you are interested in purchasing, then please email me and let me know. Don't worry, we'll check and double-check to make sure we've got the right one(s) picked out. That's it!
SUGGESTED PRICING
Size

Print Cost

Canvas Wrap Cost

16x24
$59
$99
20x30
$79
$139
24x36
$99
$149
30x40
$129
$249
For larger/other print and wrap sizes, please email me and let's chat!
Also, Costco does some very cool multi-panel canvas prints. Some argue the quality of Costco prints, but I have found they do quite well with their multi-panel canvas wraps. Here's an example of one of my photographs in a multi-panel canvas wrap from one of my customers: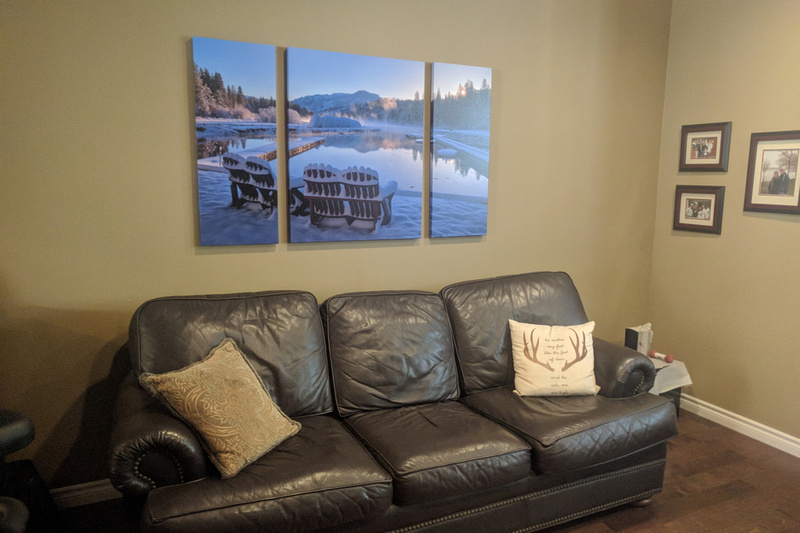 multi-panel-canvas-print
ARE MY PRICES NEGOTIABLE?
I realize not all believe that God created this world, but I do believe that these beautiful places aren't meant to be hidden away. I feel blessed (or as some would say, lucky) to be able to venture out into the wilderness and witness spectacular landscapes. And, thankfully, I have a wonderful wife who has supported me spending money to get the right camera equipment so that I might attempt to capture even a fraction of the beauty—beauty I love sharing with you. Sure, my hope is that it will point people to see the Creator behind it all, but even if it can't convince someone that God made it, I still believe it should be shared.
HERE'S MY POINT (YOU'LL LIKE THIS PART)
Not everyone can afford the prices listed. I get it. So if you see a landscape that you love, email me and make me a fair offer of what you think you can afford. No strings attached. I can't promise I'll agree, but my heart is to say yes. Why? Because I don't think such beauty should be locked away.
WHY THE COST? IS IT REALLY SO HARD TO SNAP A FEW PICS?
Some landscape photographers charge less, some way more. For me, I weight in all that the photos represent. Planning the journey, the time it takes to find (and successfully capture) the shots no matter what the circumstances. Chasing the light in often brutal conditions. For example, one of the coldest experiences I've ever had was waiting for the sun on top of an absolutely frozen ridge at Bryce Canyon to get this shot:
It looks so warm and sunny, but seriously, the wind was insanely cold, especially before the sun had risen. Other photographers were bailing, but I (painfully) stood my ground.
Or consider the cost I paid to get this shot:
Seems so nice, right? Yeah, about two hours before this shot (so WAY before high tide), a rogue wave swallowed me and about four other photographers like a whale seeking Jonah. Here's the sequence taken by an amazing gal who chose to share her photos with me: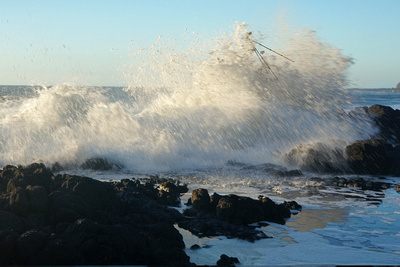 thors-well-rogue-wave-1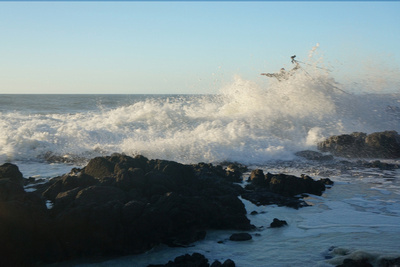 thors-well-rogue-wave-2
thors-well-rogue-wave-3
That's me holding up my tripod as high as I could without losing my balance and falling forward into Thor's Well or backward onto jagged rocks. All but one other photographer retreated after that, but I stayed the course (quite soaked). The saltwater ended up claiming my tripod and ball head (about a year later; it was a slow death). Miraculously, my camera and lens suffered no damage!
All that said, I want to make sure the price point is fair and one you feel is worth it. If there is a specific size or display type and material you need, let's talk and figure it out together!
God Bless,
Paul