They are not necessarily my best photos. Certainly not the most unique. But each photo included here has an interesting story that I guess you could say transcends the photo itself. These are the stories behind the stills...
---
The North Shore Shuffle
We were in Hawai'i—my wife (pregnant with our first girl, Ryan), my parents and I—and eating dinner at a nice restaurant at Oahu's North Shore. The sun was setting, and we could tell from the clouds that it was shaping up to be a pretty one. So I begged myself away from the table, ran to the rental car and drove like a banshee to the closest beach access I could find. I got out there just as the sun was going down and a surfer was exiting the ocean. He was silhouetted just perfectly along the beach, and it made for a wonderful shot.
---
Lake 10,300'
I was on an 8-day backpacking trip in the Sierra Nevada, mostly in Kings Canyon National Park, and at least 3/4 of it off-trail. I had promised Jessie that I would stick to a well-planned itinerary, and no matter what I'd be home on time. Well, I got off to a slow start, and after 3 days I was only a few miles off, but unfortunately due to the way the passes lined up, I was a day behind. So I realized at that point I had to turn around, or else I wasn't going to make it back in time. As I made my decision, I happened to be standing on a ridge overlooking a hanging valley with an oval lake in it, with Mount Woodrow Wilson in the distance. It was a few hundred feet down to the lake, so I decided to bushwack down to the lake and camp for the night, hoping there would be a cool view/shot at sunrise. Well, here's the view. The lake has no name, but it will always be a special one for me; some of the best things that have happened in my life happened after a disappointment. God loves to bring beauty from the ashes...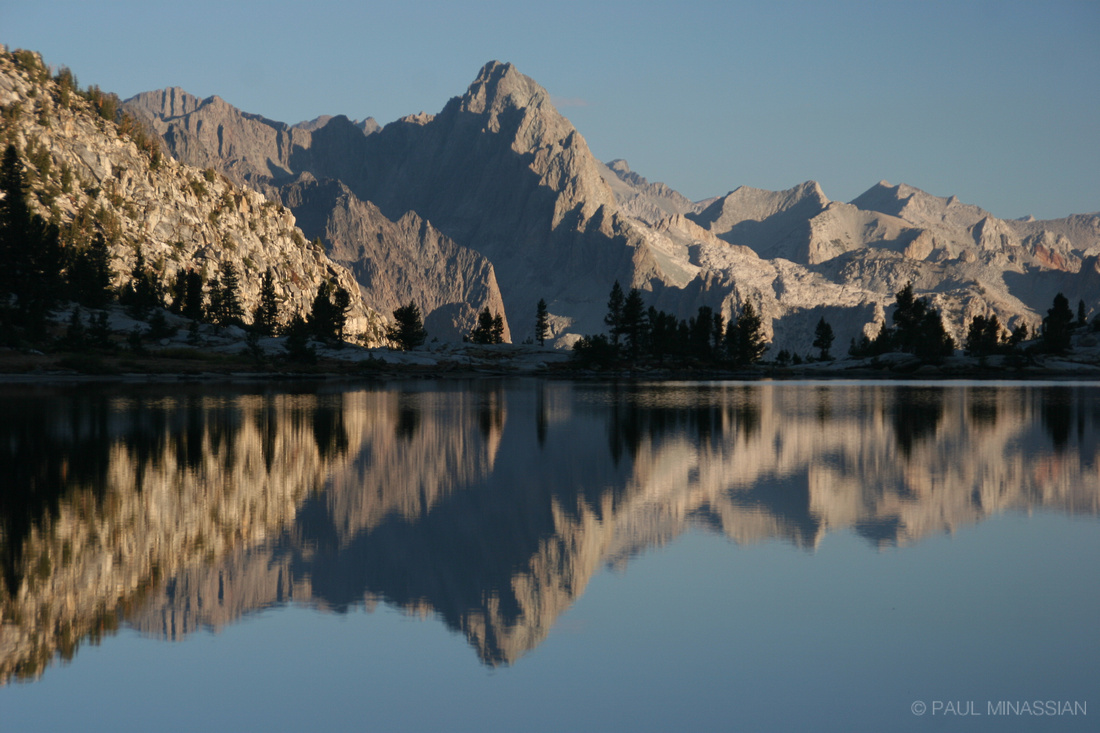 Mount Woodrow Wilson ReflectionSIERRA NEVADA MOUNTAINS, CALIFORNIA
---
McMillan Mood
Driving to the coast in California one spring, there were these gorgeous dark clouds hanging over the hills to the north. I was staring out the window (Jessie was driving), and as we passed a small valley (turns out it's called McMillan Canyon), I glimpsed what looked like a church on the top of one of the hills, lit up by the sun with the dark clouds as a painted backdrop. It was stunning! We turned around and quickly found it, and even though the clouds weren't quite as dark as when we had passed, I caught a few photos of it. It turned out to be a vineyard, but it was a beautiful moment. Below is one of the photos. If you look closely, you'll see a dog in the shot. Here's a link to another photo of the vineyard, zoomed out. Even though it wasn't a church, the stark contrast of the building against the dark clouds was one I'll never forget. It almost had the feel of a rainbow in a dark storm. I think if we keep our eyes (read: hearts) open, God will reveal Himself in stark contrast to the pain and hurt that can seem to surround us...
Serra Chapel in McMillan Canyon
---
The Waterfall That Is No More
It was my first summer living in Colorado, and I was driving the road out of Aspen toward Independence Pass, and thought I saw a small waterfall in the river. Soon after I saw a dirt road turn off and back down the other side of the river, so I went down and found this waterfall. Not the most spectacular waterfall ever, but it had a charm to it that I enjoyed. Fast-forward three years later, and I wanted to get a shot of it using a 10-stop ND filter. When I got there, however, there was a problem: the waterfall was gone! The river now emerges below these rocks, and the waterfall no longer exists. It's a good reminder to me to enjoy the blessings of each day...
Falls on Roaring Fork RiverELK MOUNTAINS, COLORADO
A charming little waterfall that no longer exists! Read more about it in Stories Behind the Stills...
---
The Perfect Rain Check
I was in Colorado's San Juan Mountains, and had planned to hike into Dragon's Back to get a sunset shot. The first time I had been to it, the sun didn't cooperate, as clouds and rain (and hail) obscured it the entire evening. So this time around I got there and it was once again raining (and hailing, and thundering) like crazy. I was bummed. I donned my rain gear and actually started out for it, but it was high, open country, lightning was striking everywhere and the rain was relentless. Reluctantly I turned around, and waited a bit at my truck. Rain never stopped, and sunset came and went. I was supposed to spend the night there, but I figured that, with such weather, sunrise might be good at North Clear Creek Falls. So I headed there and got this beautiful shot, below. I hiked down the rocks and got this shot of the waterfall as well. I am so glad it rained!
So while I still hope to get a great sunset shot at Dragon's Back someday, I thank God for His Perfect Rain Check. Sometimes (read: all the time) He knows what we need as opposed to what we think we want...