Sneffels Range from County Road 7
With the blessing of my wonderful wife, I headed to the north end of the San Juan Mountains in hopes of getting some good fall color photos. I was reading in multiple blogs and reports that the colors weren't very good this year. So hesitantly I went out, hoping it wasn't as bad as I was led to believe.
God's creation (as usual) did not disappoint. I'm finding there will always be beauty out there, even if it means finding something unique to enjoy. I have to remind myself that even if the shot isn't there, the beauty is. Our eyes can process such amazing things that our cameras can't even begin to capture.
County Road 5
The trip started with sunrise on County Road 5 overlooking the Sneffels Range...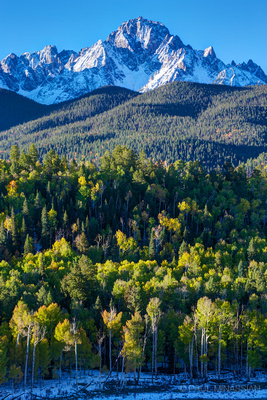 Mount Sneffels from County Road 5SAN JUAN MOUNTAINS, COLORADO
County Road 7
Once the sun was up, I headed over to County Road 7. I had been on the road a couple years ago when heading to the Blue Lakes, but I drove it at night and had no idea what awaited me...
Mount SneffelsSAN JUAN MOUNTAINS, COLORADO
Willow Swamp, Sneffels RangeSAN JUAN MOUNTAINS, COLORADO
Again, I realize this is a "bad" year for colors, but I don't care. I thought it was beautiful. It reminded me of the Valley of the Ten Peaks in Banff.
Last Dollar Road
Next I headed up and over the pass along Last Dollar Road. Having never been on the road, it was an enjoyable drive. I always thought it would be a harder drive, but it was easy, and not too much snow up on top. Once over the top, I found some very pretty aspen groves on the west side of Whipple Mountain...
Whipple Mountain AspenSAN JUAN MOUNTAINS, COLORADO
Mount Wilson from Last Dollar RoadSAN JUAN MOUNTAINS, COLORADO
Back to County Road 7
After that I decided to spend the night back on County Road 7 to attempt my first star photography, then catch the dawn...
Yes, I have a lot to learn about star photography. When I got home I read some tutorials on it, and I'm already chomping at the bit to head back out and give it a go for some better results.
As I headed out of County Road 7, I thought I'd check out a spot another photographer was at the afternoon before. I am so dumb. Had I know there was a beaver pond there with great potential for reflection, I could have gotten an awesome shot with the afternoon sun on Mount Sneffels. Sigh. Oh, well, it was still a nice shot in the morning (when the wind wasn't blowing)...
Beaver Pond in Willow SwampSAN JUAN MOUNTAINS, COLORADO
Owl Creek Pass
After sunrise at County Road 7, I headed up and over Owl Creek Pass...
Owl Creek Pass Aspen
Rock Aspen
A very talented photographer (Jack Brauer) had taken some wonderful shots of Chimney Rock and Courthouse Mountain, so I headed into the forest to look for a similar view. I think I found it...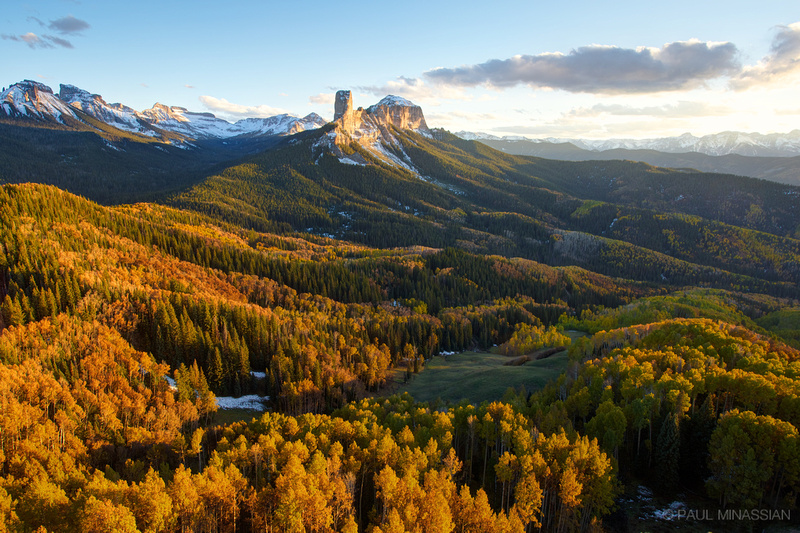 Courthouse Mountain
Afternoon near Owl Creek Pass
I put together a couple panoramas of it, using a very nice program called DoubleTake that works well with Aperture if you want to get it done quickly...
So in the middle-of-nowhere, thinking I would be the only soul around, up out of the forest comes a guy and a gal with the same idea I had. He was very unassuming, but it turns out he is a very talented photographer (Toby Harriman). If you get a chance, check out his awe-inspiring time-lapse video work.
911
Hiking back was interesting. I followed a barbed-wire fence through the dark back to where I was parked. Fell a couple times, I admit. I made one big mistake, though: I didn't ask the two photographers (Toby and his friend) if they were prepared to head back in the dark! I saw them heading down the hill to the west, and earlier he had said he didn't relish following barbed wire in the dark, so I put 2+3 together to make 4 and assumed they were going to try to reach the road to the west in the dark. I didn't know if they had flashlights, nor realized how far it was to the road that way. So I decided to wait until they reached their car. It was 8pm when I got to my truck, and the wait began. After an hour (dark this whole time) I began honking my horn and shining my mag light into the trees. I then started driving the road on the west side, honking, stopping, flashing my brights. I did this several times, and was getting increasingly worried about them. Finally I decided (after 2 hours back at the truck) to call 911 and ask for a local sheriff's number just in case (I had reception where I was parked). Just as I was talking with 911, I see light bobbing up and down on the road. It was them. Turns out (as I found out later) Toby knew was he was doing. They had headlamps and warm clothes, and had stayed to shoot the stars after dark. So they weren't heading down to the west to find the road, they were just heading to a vantage point a bit below the ridge for the star shots.
Boy, did I feel dumb. :)
The Milky Way
It was now 10:30pm (after the 911 debacle), and I had to make some decisions about where I was going to head next (and where I was going to sleep). I had promised my daughters I'd take a picture of the Milky Way (which we had introduced to them on our summer camping trip to Mesa Verde National Park). so I decided I might as well give it a go...
The Milky Way near Dallas Divide
Yep. LONG way to go to get this star thing right. :)
Rifle Falls
After all the fun, I still had one day left on the docket. The original plan was to spend the night at Owl Creek Pass, then stay in the San Juans until nightfall, then drive home through the night. However, I decided I had already gotten some nice shots, and wanted to see my wife and li'l girls before they went to bed. So I changed plans and chose to head to Rifle Falls State Park to sleep (got there at 3am), take some morning shots then head home. I had never seen the falls, and was curious if they were worth photographing or if it was just a big tourist trap with cement walkways and such. In my opinion, it's a beautiful location...
Rifle FallsFLAT TOPS, COLORADO
Rifle Falls ReflectionFLAT TOPS, COLORADO
Rifle Falls IIFLAT TOPS, COLORADO
ISO 1250
I am pathetic. Remember how I took some shots of the Milky Way the night before? Yeah, well I had set my camera to ISO 1250 for those shots — and never reset it to 100! No!!! So I took a bunch of shots of Rifle Falls, and on my LAST SHOT (no exaggeration), I noticed the ISO. Really. Really? Huge sigh. Then choice words. Then a smile and laughter. I can be so dense sometimes! At times like that, you just gotta laugh. The sun had already broken through, so the soft light was gone. Thankfully, for these particular shots the high ISO didn't seem to do much damage. I'm so glad I have the camera I do (Canon 6D, GREAT with high ISO) and that I didn't set my ISO as high as I should have for the star shots the night before! :)
Eagle River
After the ISO Madness at Rifle Falls, I finally headed home. I was cruisin' along I-70 nearing Gypsum when I noticed some really nice colors in the cottonwoods along Eagle River. I passed a beautiful grove, then hesitated at the off-ramp to Gypsum, then argued with myself (not wanting to hit afternoon traffic in Denver), and finally gave in at the Eagle off-ramp. I turned around, headed back and found this lovely grove...
Eagle River CottonwoodEAGLE RIVER VALLEY NEAR GYSPUM, COLORADO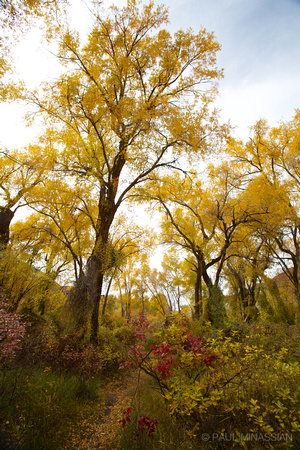 Cottonwood PathEAGLE RIVER VALLEY NEAR GYPSUM, COLORADO
Fall Cottonwood
Funny thing is, it's some sort of federal land area, so there's usually a fee. Due to the government shutdown, however, the gate was locked but the sign posted basically said "Enter at your own peril. No toilets or emergency assistance." I figured I could handle it. :)
Final Thoughts
All in all? For a year that supposedly had "bad colors" and "the worst Dallas Divide colors ever seen," I thought God did quite a nice job of it.